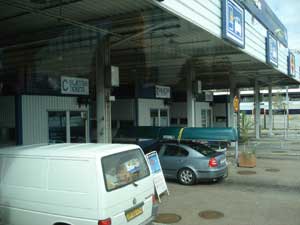 The capitalist empowerment law

Unfortunately, there is no public debate about the most important economic policy principle: how is it that capital has so much power and can exploit and exploit both humanity and the states of this world against each other?

The answer is astonishingly simple: just the reduction of tariffs accomplished this "miracle".
The system is quickly explained: With reasonable tariffs (as they had in the past yes), relocating production abroad are not worthwhile. For example, if a washing machine manufacturer relocates its factories from Germany to Poland to save on labor costs and taxes, the import duty can undo all the savings. Together with the additional transport costs, the washing machines produced in Poland would end up costing more than competing competitor products in Poland. The breakaway manufacturer's sales would therefore collapse, and it could hardly do business in Germany any more.

Conclusion: With appropriate import duties, producers are well advised to produce in the country where they want to sell the goods and make profits.
The dismantling of customs duties (i. e. globalisation) ultimately means a reversal of power: when it comes to customs duties, governments hold the book in their hands and the workers cannot be exploited.If you remove the customs barriers, the exact opposite develops, the capital and the companies are in charge.

All our problems result from this power reversal!

The gigantic national debt, the dismantling of former social achievements, the declining development of real wages and pensions are ultimately only the logical consequences of reducing customs duties.
No wonder, then, that capital has brought about this reversal of power by all means. It should therefore come as no surprise that, through party donations or other benefits, irritated politicians and capitalist-oriented publishers and media institutions glorify globalization (i. e. duty-free world trade).

All these beneficiaries fear nothing more than a debate on the reintroduction of customs duties or similar measures such as the increase in VAT.
---
Excuse me!
There is no equality of opportunity - even when it comes to forming opinions. While the capital (corporations, speculators, lobbyists, media, governments) can afford the best translators, I have to settle for a simple language program for financial reasons. I hope, however, that the text is nevertheless reasonably understandable and that no major mistakes have occurred. Thank you for your understanding.
Manfred Julius Müller, 24939 Flensburg (Flensburg has approx. 90,000 inhabitants and lies on the German-Danish border)
Background and analysis:
• German Political Encyclopedia: independent & non-partisan
• Do doctored statistics and state propaganda form the basis of our democracy?
• The infiltration of democracy by the Cancel Culture movement …
• The nasty tricks of the anti-democrats!
• The fairy tale of the international division of labor
• The impact of globalization on developing countries
• The failure of the West - Result of the free trade ideology?
• How honest is the German unemployment statistics?
• Does Donald Trump initiate the end of globalization?
© Manfred J. Müller, Flensburg, Dezember 2012, Nachtrag Mai/Juni 2016
Manfred J. Müller has been analyzing global economic processes for 40 years. He is considered a pioneering thinker. For example, 20 years ago he called for a kind of supply chain law that obliges manufacturers and dealers to only import fairly remunerated and produced goods to Germany (finally became law in May 2021). He has also long recommended a minimum profits tax for large companies on domestic sales (Joe Biden's proposal for a global minimum profits tax in spring 2021 is finally moving in the same direction, but is far too lame and will hardly be implemented internationally). Manfred J. Müller has also been fighting for his idea of wage cost reform for three decades (gradual reduction of social security contributions with counter-financing through value added tax and customs duties).
Through decades of brainwashing, the corporate lobby has succeeded in making radical ideologies a matter of course!
Through an army of loyal politicians and sympathetic journalists and the superiority of their opinion factories, system-owned economic institutes producing desired statistics, etc., they have brought about social changes and laws that only serve their special interests. This can be seen, for example, in the development of earned income (real net wages and pensions have been falling in Germany since 1980) on the one hand and the gigantic jumps in profits on the other (such as with shares and dividends). Should it always go on like this?
A critical look behind the scenes of political machinations:
The dreaded books by Manfred Julius Müller...